A-135 Individual Outputs Modification
Update autumn 2012: There is more detail on how to do this mod, and photos by someone who has successfully done it, at thread Doepfer A-135 VC mixer modification at the ModWiggler forum!
This is a suggestion for how to obtain the individual outputs from each of the four VCA sections used in the module. I have not carried out this mod myself, but another group member successfully modified his module using just this basic information.
The idea behind the mod is very simple. The PA381 VCA chips used in the module are current output devices: the combined current from all 4 sections is converted to a voltage, for output, by one of the op amp sections in the TL082 chip. Thus to obtain each individual output, the tracks routing the currents to the TL082 need to be cut, so that each current can be fed to its own, new, current-to-voltage converter before being output. With a suitable switching arrangement, each VCA output can either be part of the whole, or output separately.
The following schematic illustrates this idea: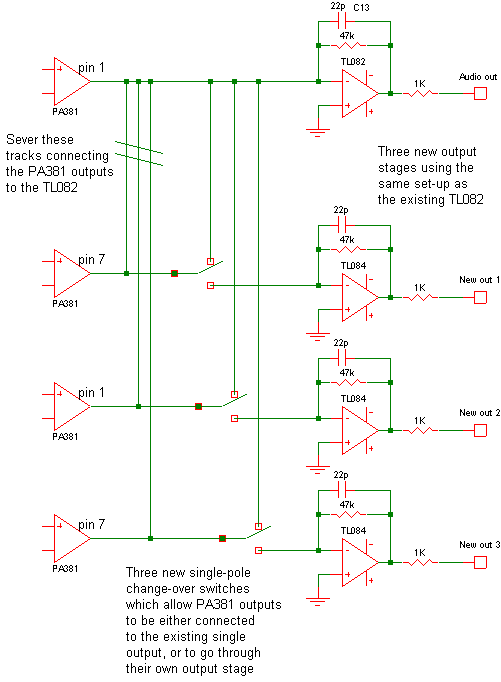 A variety of op amps will be suitable for the new sections - I have shown a TL084 in keeping with the existing TL082. With care, there should be enough space on the front panel to mount 3 new sockets and three miniature toggle switches. I can provide further assistance (e.g. suggestions as to where to cut the tracks) if needed - just get in touch!
[Page last updated: 08 Aug 2022]