Old Brochures, Posters and Articles etc.
[Many of the original documents here are awkward sizes, and so scanning and getting them into a suitable format for presentation was not necessarily straightforward. As a result, some of the files are quite large, so if you are on a dial-up, be aware!]
This is an interesting reprint of an early 'field test' of a VCS3, which must have been sent to me by EMS with the brochures that follow. It is entitled 'Synthi VCS3 Field Trial', written by David Kirk, and originally appeared in 'Studio Sound' magazine, April 1971. (The original is slightly larger than a sheet of A3, folded in half twice: both JPEGs are about 2megs, and each is about four scans pasted together):
This is a small EMS brochure with brief details of the VCS3, DK1 keyboard, Synthi A, Synthi KB1 and Synthi 100. (The original is about A2 halved lengthwise, 'fan-folded' three times to make it A5-sized: again, both JPEGs are about 2megs):

Here is a longer EMS brochure for the Synthi 100, scanned as a pdf. (Hands up anyone who remembers the DEC PDPx ranges?!) (Document size about 3.3megs.):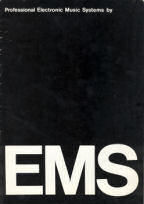 Here is an EMS price list - unfortunately there is nothing to tie it to a specific date, but I'm guessing much of this stuff here is probably around 1973. The hand-written annotation 'Radiophonic Workshop' seems to be intended as an endorsement: 'As used by the...':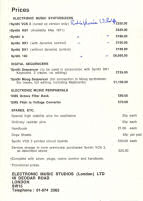 Here is the 1973 Moog catalogue - that 'IIIc' looks such a beauty, even now. As I was scanning it I noted the photo of the 'Coordinated Electronic Music Studio' (CEMS), which turned up for sale in the recent VEMIA auction (rather a large starting price though...) (File size 3.4megs):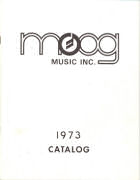 Producing the following image only became a practicality after a recent upgrade to the memory on my PC - before then PaintShopPro simply couldn't handle manipulating the 8 constituent pieces within any sort of decent time frame! It is a poster for the Arp 2500: the original is around A1 size, and I'm guessing the '1.73' up the left side might be a date code, thus dating it as 1973. But really, what a beauty! (File size 5.6megs) (The 'staining' at the corners is faded Sellotape):
Shortly after I uploaded the above, Ben Ward sent me this scan of an Arp 2500 brochure, which he is happy for me to host here. It appears to be dated September 1972, and contains yet more interesting detail (and prices!) of the Arp 2500 series of modules (File size 5.1megs):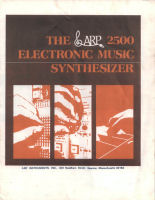 And whilst I was at it, it seemed pointless not to scan this in too: 'Electronic Musical Instruments - A Survey of the Commercial Scene'. This was a pull-out supplement in the November 1972 issue of Practical Electronics magazine: there is a small bit on synthesizers at the end, but it also contains interesting stuff on organs and guitar effects etc. I've also left the adverts in too, not only for completeness' sake, but because I feel they evoke a certain nostalgia all of their own. (File size 3.7megs):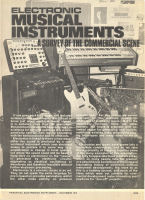 "A Tragic Waste of Talent and Electricity"
That's what John Peel once said of ELP in the early seventies, a phrase which has stayed with me all these years. I saw them in concert after 'Trilogy' had come out, in Cardiff when I was about 15: from the list of tour dates here it must have been on 12 Nov 1972 at the Top Rank Suite. The thumbnail links to a scan of the 'tour souvenir': the red 'cross' on the cover is actually a piece of red ribbon stuck to the cover - how sweet... (File size 10.7megs):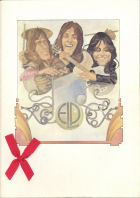 [Page last updated: 14 Dec 2009]