Blacet 'Dark Star Chaos' DSC2000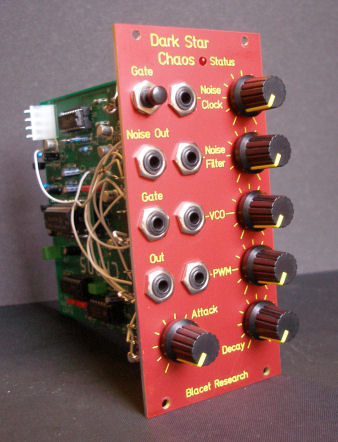 This was an impulse purchase of a bare PCB and the hard-to-source TI SN76477 sound effects chip, when Blacet Research found a batch of ICs in the narrower 0.3" package, and so did a run of PCBs, sold along with a little 'piggy back' PCB to fit the chip into the 0.6" footprint on the main PCB. I thus had to source all the other components myself, and finally had to give up the idea of finding any pots that would fit the footprint on the PCB, and which also had splined shafts on them so that I could use Rean knobs, similar to what is used by most of the rest of my modular. The result was a fiddly bodge of the reasonably standard 16mm pots onto a piece of stripboard, with flying wires to the PCB. The wiring isn't the neatest in the world, but gets the job done.
I wanted it to look different from either the blue panels of my DIY efforts, or the bare metal of the Doepfer/Analogue Solutions/Analogue Systems modules, hence the 'yellow on red' Schaeffer panel, with yellow stripe Rean knobs, which overall I think looks quite attractive. Below are a couple of shots from either side.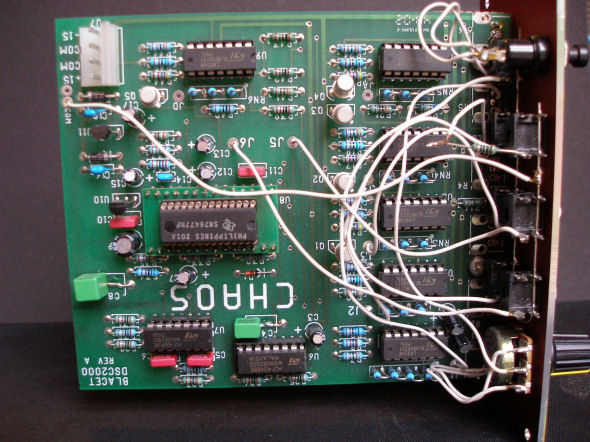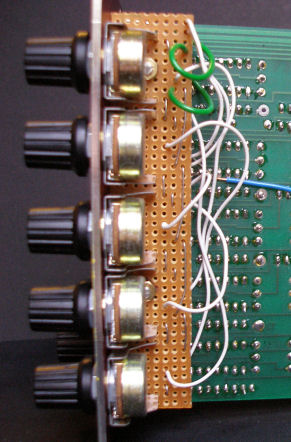 [Page last updated: 14 Dec 2009]